A dirty HVAC unit can not only lower its lifespan and waste energy, but it can reduce the air quality in your home as well! That's why it's important to get your unit looked at periodically to assure it's working properly.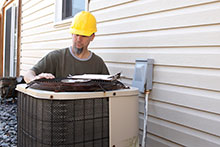 Thorough Air Quality Testing
If you're worried about how good or poor the air quality is in your home, there's an easy solution for that! Our professionals can provide an air quality test that will be able to tell you where your air falls in terms of high or low quality, and specifics about what may be causing it to be lower. Factors such as pet dander, smoking, dust, mold, and otherwise can all be involved, and this test can help you focus on any problem areas to get your air fresher and healthier!
Excellent Cleaning Services
Leaving your air conditioner alone without periodic cleanings means allowing a wide variety of materials like dirt, dust, and even mold to build up in it over time. The more that gets trapped in the unit, the more will pollute the air that it puts into your home, thus lowering the quality and causing a potential health risk for anyone with breathing troubles. These clogs also lower the effectiveness of your unit and cause a waste of energy, which is why it's best to let us clean it out for you! Our experts use the finest equipment available to get your unit completely cleared.
Maintenance Is Also Available
Another great way to ensure the lifespan of your HVAC unit is with regular maintenance! Our team will carefully inspect the unit and related components to check for any signs of trouble that may cause bigger issues later on to get them taken care of. This way, you won't have to worry! Rather than risk your unit breaking down completely when you need it most, just let us give it a checkup now instead. Air Duct Cleaning Reseda is here and ready to help as soon as you call!